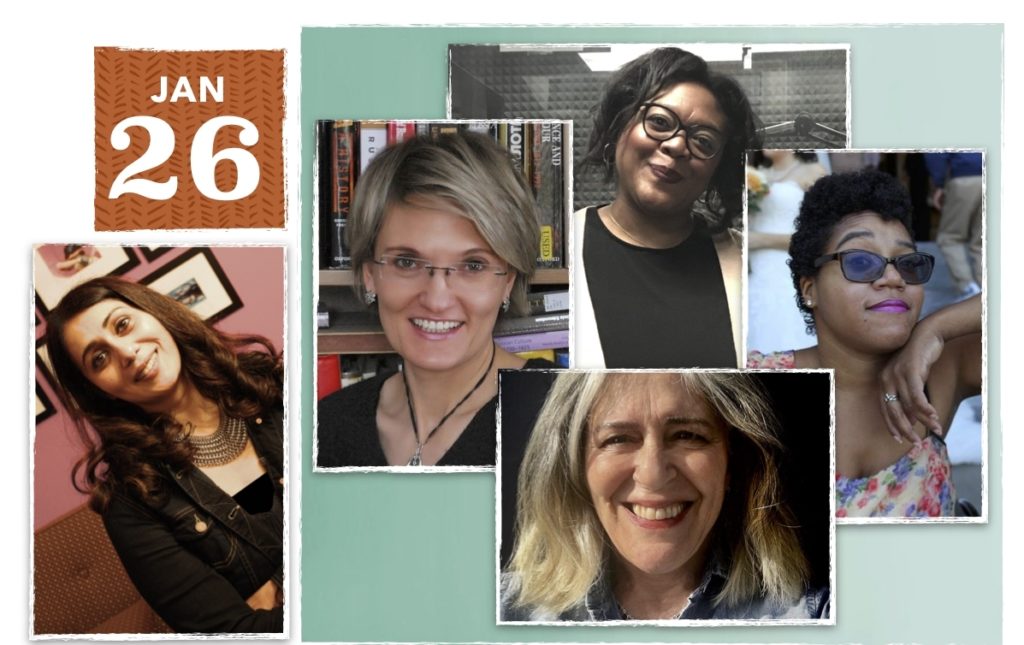 From Inclusion to Full Equity: The Diversity Advantage
---
The goal of this conversation is to take diversity beyond the niceness of multiculturalism and inclusion, and to focus on how full equity can revitalize and transform systems and societies.
Understanding the diversity advantage is helpful in rebooting dominant racial, cultural, and religious systems and narratives. It can liberate politics and history. It's not limited to the framework of minority rights but is about collective liberation.
This event is sponsored and supported by the Gandhi Institute for Nonviolence, the History Department at the University of Rochester, Rochester Global Connections, and the American Association of University Women.
PANELISTS
Mary Scipioni is a landscape architect, writer and critic, and the owner of Pebble-stream. She has taught at RIT, Mt. Holyoke College, Hampshire College and the University of Massachusetts Amherst, on the subject of landscape and urban design. She has over 30 years of design, planning, and scenic quality experience. She spent 18 years of her life in Italy, working in the design and communications sectors in Milan. She writes for the online publication Medium.com and has just published a second book on garden design called "Your Rad Garden," which is available on Amazon. Mary will be talking about "Diversity and the ecology of resiliency."
Luticha Doucette is the owner of Catalyst Consulting and a founding board-member of Rochester Accessible Adventures. She was Ms. Wheelchair New York 2011 and graduated from RIT with a degree in Bio-informatics. After graduating she was a Fellow at the University of Rochester where she worked in a genomics lab. She recently wrote a report on wage disparities, analyzing wages across race, gender, and disability here in Rochester and Monroe County. She also serves on the board of the National Coalition-Building Institute, which provides training on different aspects of social justice, by engaging in productive dialogue. Luticha will be talking about ableism as a form of segregation.
Kristin Hocker is an Assistant Professor of Clinical Nursing at the University of Rochester's School of Nursing. Prior to that, she was an Organizational Development Specialist in the Human Resources Department. She is also an alum of U of R's Warner School of Education, where she earned her doctorate in Higher Education Administration. Kristin developed and facilitated training and professional development throughout the University. Fueled by the passion for inclusion, she coordinated the Safe Space program, and helped develop training on Implicit Bias and Microaggressions. Recently she started her own business, Eighth Horizon Training and Consulting, where she continues to offer her services as a facilitator. Kristin will talk about Facing the Beast of Racism.
Mara Ahmed is a political activist, artist, writer, and an independent filmmaker at Neelum Films. She was educated in Belgium, Pakistan and the United States. Her educational background is Finance and Economics but she became a filmmaker 10 years ago. She is now working on her 4th film: a documentary about racism in America, focusing on the voices of women of color, in the Rochester area. Mara will talk about the work of Edouard Glissant, a Martinican writer, theorist and philosopher. To her abstract ideas and philosophy are important because they help us envision a better world, they give us the language to imagine such a world. Glissant's work – novels, poetry, a play and 15 collections of essays – offers a profound reflection on colonialism, slavery and racism, but also a powerful vision of a world where cultural diversity can flourish. He wrote about the Poetics of Diversity – work that teaches us how to live in a chaos world.
---
---